About Me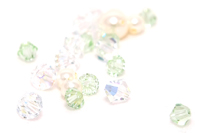 I'm Natalie Wallbank, but everyone calls me Nat. I'm married with a grown up son and a dog. I enjoy travel and wildlife, which is where I think I get some of my inspiration from.
I've been making jewellery & tiaras since 2006. It all started when I was getting married myself. Whilst discussing tiara options, a friend said that they were suprised that I wasn't making my own as I was 'so arty'. And so the challenge was set. I had a go, and I was very pleased with the result. So I made all my bridal jewellery, and then matching sets for six bridesmaids, and then presents for family and friends, and it just kind of escalated from there.
I initially started making and selling tiaras and bridal jewellery made from wire, crystals and pearls. I have now branched out into designing and making more everyday jewellery using semi precious stone, glass and other beads. I have also started experimenting with making my own beads from polymer clay, which is something I'm hoping to develop.
I have always liked arts and crafts and making things, and when I was a kid, I didn't want to be a Blue Peter presenter - I wanted to be the person who had actually 'made one earlier'!
My biggest problem is that I have more ideas in my head than I can make!
I hope you find something on the website that you like - and I hope you will enjoy wearing my jewellery as much as I enjoy making it.
Nat x